Updated Friday, January 24, 2020 3:10 p.m.
ACT ON YOUR DACA NOW!
Consult an immigration attorney if you are concerned about your case AND to learn immigration options available to you.
Contact the LA County Office of Immigrant Affairs for information and to be connected with free or low-cost legal aid attorneys.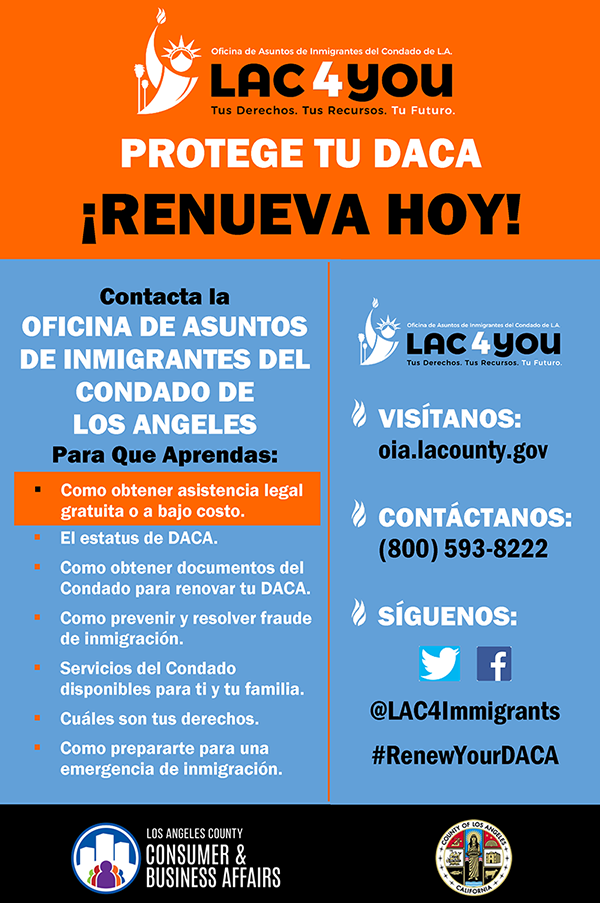 Updated Monday, September 17, 2018 3:19 p.m.
Click here for the article What You Need to Know About Where DACA Stands
A federal judge from Washington D.C. issued a ruling on Tuesday, April 25, 2018 to restore DACA.
Here is what you need to know:
The judge ordered the U.S. Department of Homeland Security (DHS) to restore the DACA program including new initial applications with a 90-day delay.
The judge gave DHS 90 days to submit its reasoning to cancel DACA. If DHS cannot satisfy the judge with its reasoning, the DACA program will be restored fully in 90 days.
DO NOT SUBMIT A NEW INITIAL DACA APPLICATION AT THIS TIME YET.
The Los Angeles County Office of Immigrant Affairs will continue to monitor this situation and advise accordingly.
We will continue to update this DACA fact sheet as more details emerge. Check back for the latest updates from the Los Angeles County Office of Immigrant Affairs.