OIA Celebrates National Immigrants Day with Grants to Immigrant-Focused Community-Based Organizations
https://oia.lacounty.gov/wp-content/themes/blade/images/empty/thumbnail.jpg
150
150
dcba
https://secure.gravatar.com/avatar/283a84264a4cc55a55ac421d46651764?s=96&d=mm&r=g
OIA Celebrates National Immigrants Day with Grants to Immigrant-Focused Community-Based Organizations
Ten nonprofits to receive first round of grants to strengthen their capacity to serve the County's immigrant communities
LOS ANGELES – The Los Angeles County Office of Immigrant Affairs (OIA), in the Department of Consumer and Business Affairs (DCBA), celebrates National Immigrants Day on Friday, October 28, 2022, by recognizing 10 immigrant-focused Community-Based Organizations (CBOs) that are receiving capacity-strengthening grants made possible by the American Rescue Plan Act (ARPA). Each organization will receive two-year grants of $150,000 and technical assistance as part of OIA's Capacity Strengthening Grants for Immigrant Focused CBOs initiative.
These grants are the first round of OIA's efforts to support CBOs that are focused on helping immigrants and their families recover from the COVID-19 pandemic. As more funds become available, OIA plans to provide similar grants to CBOs that serve immigrants throughout the LA County.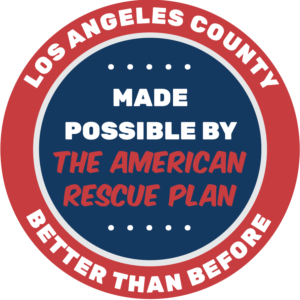 "Through the Office of Immigrant Affairs and ARP Act investments, we are ensuring that the vibrant communities we serve are able to thrive as we recover from the pandemic," said DCBA's Director Rafael Carbajal. "We look forward to the successful implementation of every recipient-organizations' projects to advance our mutual missions."
"The Center for Nonprofit Management (CNM) is honored to work with OIA and this group of nonprofit leaders over the next two years to build new skills and support their efforts to serve the many immigrant communities that enrich LA County and improve lives for so many," said Regina Birdsell, CNM President and CEO.
Grants were made to the following immigrant-focused organizations for the following purposes:
The 10 grantees were honored by OIA and the LA County Board of Supervisors at a virtual recognition event on Friday. A recording of the event is available on DCBA's YouTube page.
For more information about the initiative, visit cnmsocal.org/capacity-strengthening-grants-for-immigrant-focused-cbos/. For more resources and information provided by the Los Angeles County Office of Immigrant Affairs, visit immigrants.lacounty.gov.
National Immigrants Day is a commemoration that began with an Act of Congress in 1987 to honor the contributions of immigrants both past and present. It is recognized on October 28, the day the Statue of Liberty was dedicated in 1886.